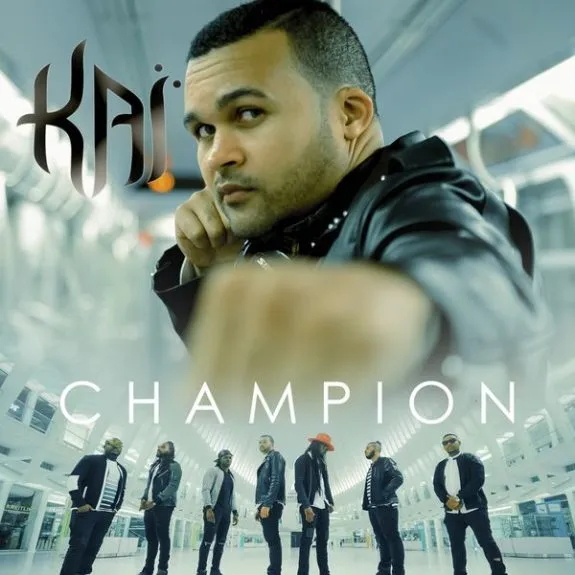 The song cancer gives novel meaning to the term "power duet". My goodness. We've got singer Rutshelle on one side with her molasses-tinged voice, and we've got Rich Cave singing like it depends on his life. "This relationship done turned to cancer," he and singer Rutshelle belt out in the verses. What a duet. By the time the song concluded, I wondered how wonderful it would be for him to do an entire album of love duets with other female singers.
No wonder former Carimi member Rich Cave calls his album Champion. Is it a reference to his going forward after the collapse of his former band? It's possible. More than anything else, it's an apt title for an album where each song practically deserves a medal. Some of them deserve laurels for their simplicity, others for their originality.
One such song whose originality I savored is "Kite Menaj Ou (Leave Your Boyfriend). It's a situation that some of you readers may have been in and couldn't find the right song as a soundtrack to the situation. Now, you have a song to sing to.
A dude is in a platonic relationship with this girl who's already taken. He's her secret admirer from afar. He had been reluctant to get into a relationship with her, for fear that would ruin their solid friendship. But he's willing to take a chance. From his perspective, the man in her life is a pathological liar and enjoys making her jump through ropes. He's so unworthy of her, he thinks!
And the biggest sin of all…
Yon nèg ki pa janm mennen ou danse konpa. He doesn't even take her to dance konpa. Lawd! Now, that's the ultimate dating sin! Can I get a podyab for this girl? No wonder he wants her to abandon her boyfriend.
The hook is super-catchy, like a playground chorus for adults…
Cheri kite mennaj ou/Vinn jwenn mwen
Babe leave your boyfriend behind/Come by my side
The song features singer-songwriter Mikaben rapping on the track.
Now something has to be said…
Kai has imprints of Carimi, the same way that the other offspring of Carimi Vayb does on Game Over. The thing about both bands is that though they're spinoffs of the now-defunct Carimi, and although they do have sprinkles of Carimi all over, I think that with time, their identity will evolve more.
I had some really high expectations for "Tou Mare" (All Tied Up), especially seeing that it featured my secret cherie Alan Cave. The song exceeded all the hopes I had for it. The Caves' falsettos are something to live for. Not as much begging, pleading and supplicating as I expected and longed for, but that's fine. It's a very romantic ballad nonetheless. Lots of vulnerability.
"Cocktail" evokes the sounds of the other French-speaking islands. It undoubtedly has more than a hint of the zouk genre. Self-celebration is the crux of "Nou Nan Kai La" (Kai in Da House). The wordplay is rather cute.
"Malad" is one of the album's strongest ballads. It's danceable. Look, it's just plain cute. There are times when the narrator sounds almost psychotic with all his loving. As dramatic as the song is, did you know that there is some truth in it? Love can literally make us sick. Dr. Joseph Mullett over at Minnesota's Optum Behavioral Solutions was once interviewed by a health writer for EveryDay Health on disease associated with falling in love and being love-struck.
One of the assertions made by this medical professional is that when deeply in love, our brains release neurotransmitters like phenethylamine, dopamine, norepinephrine, and the so-called love hormone oxytocin. These neurotransmitters give us the feeling of euphoria, but then those same neurotransmitters lead to people in love having poor appetite, lose their ability to concentrate and think clearly, and even have affect sleeping habits. Malad!
"Demysonye" (Resignation) won me over from the minute I heard its first lines. The metaphors were tops. The song likens a relationship to a corporate position with no opportunities for advancement, and more dishearteningly, no job security! There's only one solution: voluntary resignation.
So there you have it! Kai's Champion album is nine tracks of lovey-dovey songs, manly vulnerability, and plenty of romance. If I could select four tracks on Champion to play for the rest of my life, these would be it: "Demysonye", "Malad", "Kite Menaj Ou (Leave Your Boyfriend), and "Tou Mare".
I think it was such a great idea to have Alan Cave come on board on "Tou Mare". With "Malad", we've heard the lovesick theme a lot, but the singer took it to new dimensions. There's this desperation in his voice, as if he'll get committed to a psych ward if his love isn't returned. Have already brought out how original I found "Kite Menaj Ou" to be.
In addition to crafting great songs and belting his songs like he means it, Rich Cave knows who to bring on board with him, from Alan Cave to Rutshelle to Mikaben. So much musical chemistry.
Get some Haitian music on your music player…
Last Updated on August 30, 2023 by kreyolicious