Haiti-based singer Mikaben recently dropped an album that many are calling the best work in his decade-plus career. "I have been following Mika [the singer's other alias] since "Ou Pati" from Haiti Twoubadou," says Boston turntable master DJ Superduke. "
I think the MKBN Album is a versatile track compilation of Mikaben's maturing talent. In the days where Haitian music industry bands are more leaning towards releasing EPs or ten track albums, Mikaben proves that when you are talented and appreciated [by] your fans, you can release 18 tracks."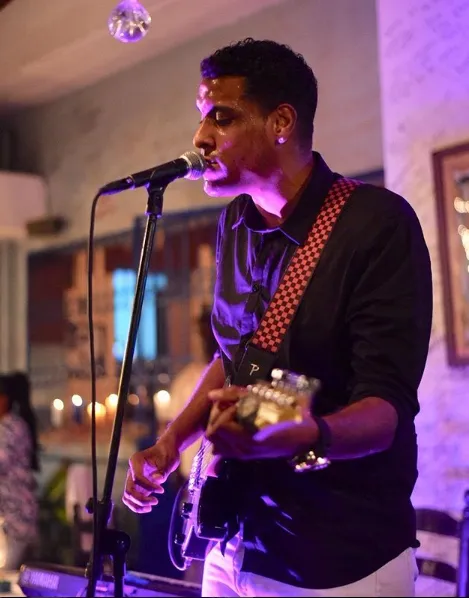 On these tracks, Mikaben basically pours his little heart out, and not just any sort of pouring…the sort of pouring that makes you think that he experienced some blood loss in the process. On songs like "Bye Bye, Baby", "How Do You Know?", and "Pou Ki Se Li" [Why Him?], it feels as if the singer decided to have a sort of emotional cleansing once and for all times.
Of course, not all of MKBN is melancholy and confessional. There are fun moments, such as the flirtatious "Change Your Life" with singer-dancer Meilan, "Ayibobo", a celebratory teaming with singer-guitarist Paul Beaubrun, and the made-for-the-dancefloor collaborations with fellow Caribbean artists Kevin Lyttle, and Elephant Man ("Carnival Anthem"), Admiral T ("Bouje Kò W" [Move Your Body].
Songs like "Je Fèmen" (Eyes Shut) and "Kenbe m" (Hold Me) dissect love in a much romantic and promising way than the aforementioned "Bye Bye, Baby?" and "How Do You Know?"
Besides the love songs, one thing that is consistent with the Mikaben musical brand is his insistence on including socially-conscious songs on his album. This is done most effectively on "Lyric All", in which the singer-songwriter delivers a forthright musical sermon to Haiti's youths.
Above: The singer during a radio promotional tour for MKBN in Cap Haitien, Haiti's second-largest city.
Kreyolicious: On MKBN, you have 18 tracks. What factors went into your selecting them?
Mikaben: A lot of those songs had been around for years, and since I hadn't released an album for a while, I thought it was time for some songs like "Pouki Se Li" [Why Him], "Kenbe m" [Hold Me], "On Y Va" [Let's Go], "Je Fèmen" [Eyes Wide Shut], "Lyric All" to make the cut for the album.
The other ones are more or less "more recent" songs that I had made. I have so many songs, honestly, picking those songs became kind of "random" at [that] point.
Kreyolicious: You have two duets on MKBN, among them with those female talents. One is with the raptress Princess Eud ("Number One") and the other is with Meilan ("Change Your Life"). What was it like working with these two artists?
Mikaben: It was fun, especially [since] they are two of our hottest female artists. I loved working with bothPrincess [Eud] and Meilan.
Above: The singer Mikaben poses with members of his loyal fan base in Port-au-Prince.
Kreyolicious: While we're on the subject of female artists…what if you were to undertake an album with nothing but duets on it…duets with female artists. This hypothetical album would have twelve tracks…so which twelve female artists would be on it?
Mikaben: Darline Desca, Rutshelle, Queen Bee, Annie Alerte, Lyska Vante, Meilan, Princess Eud, Fatima, Coralie Herard, Tamara Suffren.
Kreyolicious: The song "On y Va" with the singer Belois definitely one of the highlights of MKBN. What was it like collaborating with him? Being that you are both solo artists, did that affect the approach you took somewhat?
Mikaben: It was a smooth and sound collaboration. Me and Belo have known each other for eighteen years now (because we had started our respective careers at about the same moment). Me and him are really good friends. It was easy to make it happen.
Above: Mikaben addresses members of Haiti's media outlets prior to a concert promoting his opus in Port-au-Prince.
Kreyolicious: Some of the songs are highly personal in nature, especially "Pouki Se Li", which is about loss. Do you think it's therapeutic to create such songs?
Mikaben: Yes. I believe so, because you can actually "freeze" your sorrow into words and melodies. Some gaps can never be filled. Some wounds may never heal completely, but writing about those things can be of some help.
Last Updated on August 30, 2023 by kreyolicious