With his film project Madan Sara, fledgling filmmaker Etant Dupain is hoping to shed light on the historical importance of Haiti's women to the island's economy and existence. Prior to taking a creative dip in the film world, Dupain worked as a journalist and producer.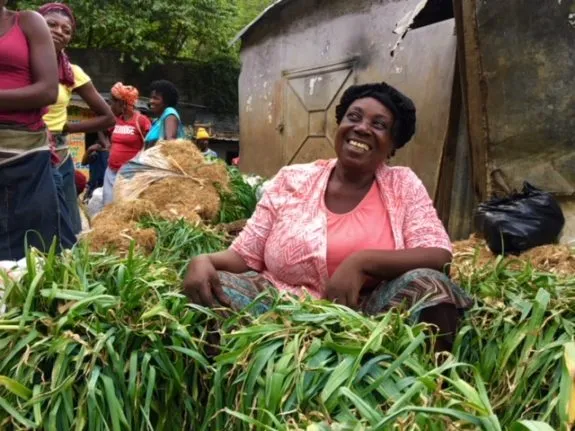 Kreyolicious: What led you into filmmaking?
Etant Dupain: I deciding to get into filmmaking to tell bigger stories and more complete stories. Madan Sara is one of these stories. This film is, in my opinion, is a medium through which the voices of Haitian women can be heard, voices that deserve way more than what they're] getting] right now.
It's so clear. When you go to a public market or are in the streets, it's clear who is keeping the country running. It's the women. However, when you turn on the radio or go to public spaces (politics, people in positions of leadership), it's always men who are making the decisions and controlling everything, including women's personal lives.
I wanted to tell the complete story, and film is the best possible way to do so. Madan Sara won't be just a film. I will screen the movie in all the communes in the country and start a real conversation about Madan Sara, but also about what to do to modernize the informal sector with appropriate policy that can work with our market system.
Kreyolicious: What's it like managing your production company Kombit Productions?
Etant Dupain: Kombit Productions is pretty small, but we're trying to change the game in term of the relationship between national and international media. As a local journalist and producer my team and I we have good connection with some very big international media.
My older brother, Jeremy Dupain, is an Emmy-winning journalist, so he helps us reach that audience. We try to fix and maintain certain standards for local journalists, specifically in regards to whom we work with, how we work with them, and also, for what price. International media want 'fixers', which is fine, but with what price and expectations for the fixer?
Kombit Productions is more about partnership and mutual understanding and respect for our country. I am the one who produced most of Al Jazeera English's coverage in Haiti, and if you're familiar with international coverage in Haiti, you'll see the difference between our work and others.
We are not in the business of production just for profits, but mostly to help represent the facts; the real stories with professionalism and respect. It's a small production but we're trying to set a standard for others.
We understand our role and we want a fair representation and fair rate. We receive fewer job opportunities because we have higher standards but we also produce the best quality of materials coming out of Haiti.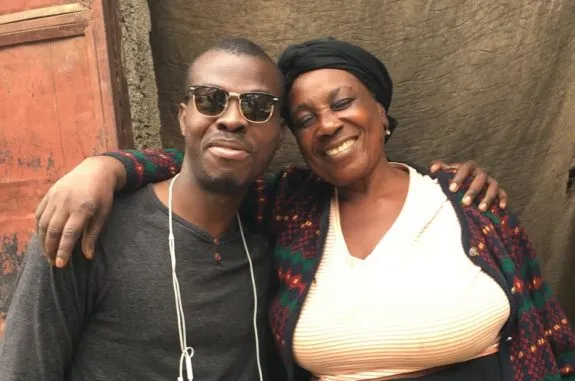 Above: The filmmaker with one of the subjects of Madan Sara.
Kreyolicious: How did the concept for Madame Sara take form?
Etant Dupain: Madan Sara has an historical context. During the times of slavery the French slave holders did not want to feed the slaves or share their profits that the slaves produced with them. They gave them a little piece of land to grown their own food, which they called "portion de vivre".
With that piece of land the slaves produced so much, they started to sell the surplus. While going to the market to sell food, some slaves started to organize and escape. This is when the French slave holders decided that the men would work at home and only women would go to the market.
I think this is one of the reasons that, until today, the Madan Sara [women street vendor] business is composed of 99% women. Also, Haitian women work hard and love their independence. Unfortunately, we, Haitian men, don't want to admit this reality and choose oppression over development.
In places like Haiti, women must be free and equal in order for the country to move forward. It is the only way forward. In my experience, I saw my mom work harder than my dad and she received very little credit for all her work.
I think that's unfair and I will do my part to change the culture. I believe the Madan Sara project is a good start.
This concludes PART I of the interview with Madan Sara filmmaker Etant Dupain. Be sure to watch out for the second part.
Watch the Madan Sara film trailer below…in Haitian Creole with English subtitles.
Last Updated on August 30, 2023 by kreyolicious