It's not hot hard to see how disciplined Melissa St. Vil is, not just as a boxing champion, but as a person. Her sessions with her personal trainer and her boxing mentor are intense. When she gives her body a break, she doesn't give her mind one. Last month, she took part in a Haitian-American Caucus event designed to end gender-based violence. She taught the mostly-female attendees self-defense techniques.
The boxer was born in New York, and over the course of her career so far, she has won the WBC Silver 128 championship, has been declared a WIBA, IBU, and IWBF World Champion. Two years ago, when Haiti was struck by Hurricane Matthew, she traveled to Port-Au-Prince to hold a benefit fight.
Kreyolicious: What was it like growing up as a Haitian-American?
Melissa St. Vil: I've always been proud of being Haitian-American because at that time [in the 1990s] some Haitians would not embarrass their culture.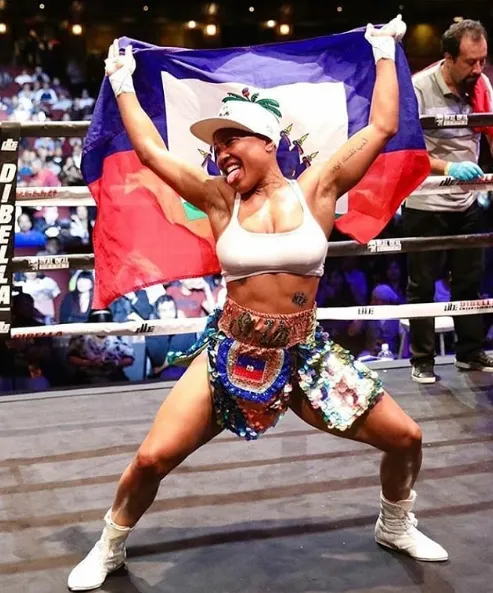 Kreyolicious: How did you get interested in boxing?
Melissa St. Vil: I grew up in a violent house. I had few street fights. I was a angry teen, so finding boxing was my outlet.
Kreyolicious: What was the first championship you won?
Melissa St. Vil: I won my first title in my third pro-fight which was the WIBA that Mike Tyson presented to me.
Kreyolicious: Being a boxer takes a toll on you physically. It can be harmful, even. How do you take measures to protect your body, your face especially?
Melissa St. Vil: I work really hard in the gym to correct mistakes so that I won't get hurt. I pray and keep positive energy.
Kreyolicious: And how do you make sure you leave boxing in the ring and don't attack folks outside the ring?
Melissa St. Vil: I'm not an aggressive person. I would never start a fight, but if it goes there I will handle my business.
Kreyolicious: You did this fundraising boxing match for Haiti. Would love to hear more about that…how it came about and all?
Melissa St. Vil: I had an offer to fight in Haiti for a good cause, and giving back is always a must for me. I love helping people
Kreyolicious: When do you feel the most beautiful?
Melissa St. Vil: I always feel beautiful inside and out because I have an amazing soul and spirit.
Kreyolicious: What sort of reaction did your parents have when they figured that you were going to be a professional boxer?
Melissa St. Vil: Well, my mom always took care of me growing up, and she doesn't support me boxing at all.
Kreyolicious: Do you imagine that there will be a time when boxing is no longer part of your life?
Melissa St. Vil: Boxing will always be part of my life forever even after I'm done fighting i will be there helping other young women in boxing guiding them on a positive path
Kreyolicious: What are you most proud of?
Melissa St. Vil: I'm proud of everything I have done in boxing because I was the underdog coming in. I proved a lot of people wrong, and I never took the easy road.
BE SURE to follow Haitian-American boxing champion Melissa St. Vil on Instagram!
Last Updated on August 30, 2023 by kreyolicious